UPDATE - 28/11/11 - These are now in stock and shipping!


Many thanks to all the pre-order people - I have sent half the pre-orders out already today, and will send the rest out tomorrow / Wednesday. All remaining copies are now up for sale on the Sublogic Recordings webstore and on the Discogs Marketplace...

These are two separate 12" 4-track EPs, and between them these feature all four of the previously unreleased VIP, dubplate and Live PA remixes kindly provided by James, Tim and Ian from Essence Of Aura, and also remastered reissues of all four original tracks from their superb 1992 Destiny EP
These tunes really do cover the whole range of Essence Of Aura's sound - from the quality 1992 - 1993 breakbeat hardcore of the Destiny EP and Disortion Crew tracks, the 1993 darkcore goodness of Can I Dream, and through to the early 1994 DNB / jungle era with Fall Down On Me and their amazing remix of Tango & Fallout's Positive Chaos. The previously unreleased material featured here has never been available on vinyl before, and until now was only ever on personal dubplates given by Essence Of Aura to Randall, Ratty, Tango and Fallout back in 1993 - 1994.
The tracklistings for both releases are here, along with MP3 soundclips:
SLRV016 - Essence Of Aura Volume 1
A1 - Tango & Fallout - Positive Chaos (Essence Of Aura VIP Remix) (1994) - MP3 clip
- click here
A2 - Essence Of Aura - Spiral (1992) - MP3 clip
- click here
AA1 - Essence Of Aura - Fall Down On Me (Unreleased Dubplate Mix) (1994) - MP3 clip
- click here
AA2 - Essence Of Aura - Destiny (1992) - MP3 clip
- click here
SLRV017 - Essence Of Aura Volume 2
A1 - Essence Of Aura - Distortion Crew (The Edge 1993 Live PA Rework) (1993) - MP3 clip
- click here
A2 - Essence Of Aura - Floodlite (1992) - MP3 clip
- click here
AA1 - Essence Of Aura - Can I Dream (The Final Chapter VIP Remix) (1993) - MP3 clip
- click here
AA2 - Essence Of Aura - Madder Than Adam (1992) - MP3 clip
- click here
Label art: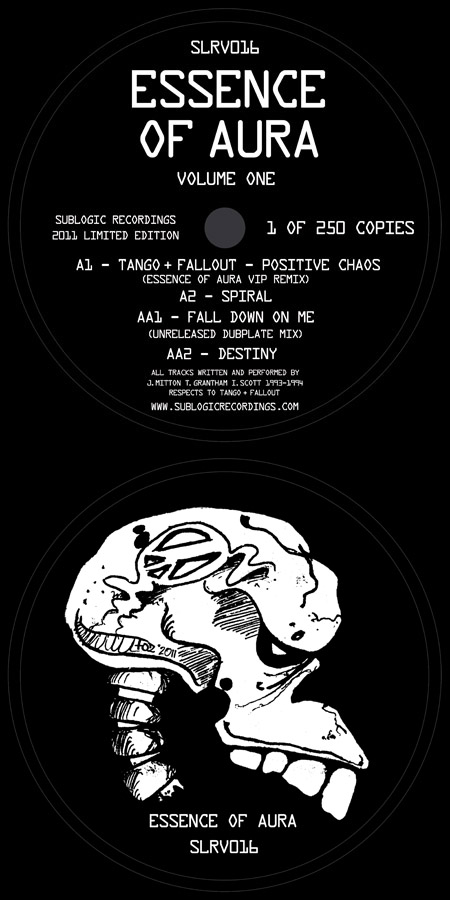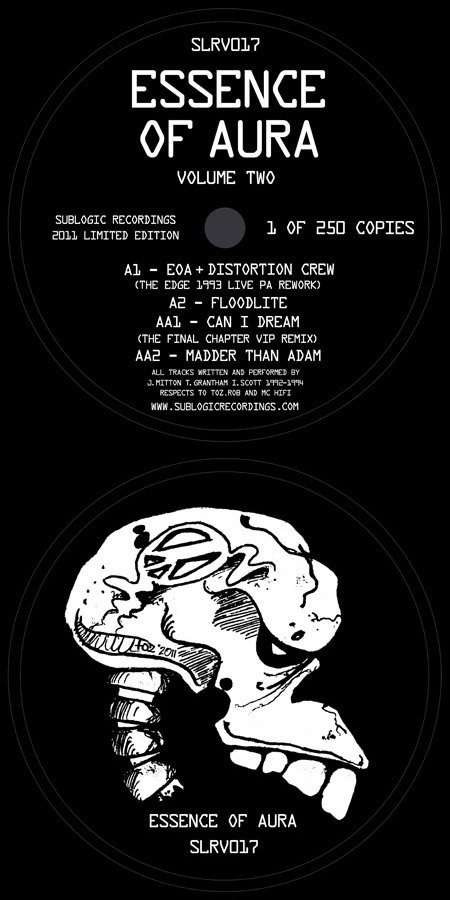 You can now purchase these two releases directly from the Sublogic Recordings webstore here:
http://sublogicrecordings.easywebstore. ... AZGJV.aspx
and
http://sublogicrecordings.easywebstore. ... AZGK0.aspx
Both EPs are priced at £9.99 each, and have been fully remastered by Beau Thomas at Masterpiece Studios, and pressed at Optimal GmbH in Germany so these will be superb, high quality vinyls - hopefully those of you who purchased the Sub Love EPs will know just how well these should come out :D